As part of a collaboration between
Cryptic
Glasgow, the Ural branch of the 
Pushkin Museum
in Yekaterinburg and the
British Council 
myself and Raydale Dower were given the opportunity to travel to the Ural mountains in Russia for the NCCA Artist Lab. Once in Yekaterinburg we were given the task to hold weekly workshops for the participants of the lab and curate a final show together with the students. During my stay in Yekaterinburg I learned a lot from the group at the lab and long-lasting friends with the participants. It was truly an important journey for me this early in my career as an artist and am grateful to have had this experience. A special thanks goes to Alisa Sycheva who helped make this trip the most wonderful experience. Thank you also to Cryptic Glasgow, the Russian British Council and British Arts Council for making all of this possible. : Lastly I would also like to thank First Fraser for helping us across seas and sorting our travels so smoothly. More pictures and highlights from the residency below: 
Artists stand with Ukraine. Information on how to
help
Arriving
The jetlag commences… After long rest from the flight, Alisa gave us a tour of the NCCA offices. The building is wonderful and our studio is very cozy, equipped with two desks, chairs and a sofa. In the evening, we were invited to a gallery opening by the artist Ksenia Koshurnikova followed by a performance by Aromat Glaz.  Ksenia Koshurnikova is an artist from an area not far from Yekaterinburg. Their exhibition was curated to showcase the work of local Russian artists and will be available to visit until March 2022. The work is absolutely stunning and I would recommend going to see this wonderful exhibition if you can! Following an artist talk and meeting the participants, we dove straight into the workshops. 
Hydra
 is an online visual coding software that I use for a lot of my work created by Olivia Jack. For the first time in Yekaterinburg, I am able to share this incredible tool with other visual and audio artists. During the workshops, I taught the basics of coding in Hydra (with no previous coding experience required) and then encouraged the participants to create their own codes and share those with the group. Many of the artists continued to use Hydra throughout our stay here and are using it to create works for the final performance on the 19th of February 2022. We explored how to create audio reactive visuals, work with digital art and connect MIDI to Hydra too.
The participants were incredibly engaged and frequently requested one-on-one sessions to work on the material in more depth. This has been incredibly motivating. 
Uralmash field recording trip 
A field recoding excursion! As part of the workshops, I also decided to organise a filed recording walk with the group, to explore the sounds of the Urals through microphones. The Lab participants suggested the industrial area of Ural Mash to record sounds. The area was rich in history, as it was built around the Uralmash factory that was built in 1933. This large area is considered to be a city within a city and is decorated with constructivist buildings, Stalinist and Khrouchtchevka architecture. Each balcony was also decorated differently, revealing life from inside these historic buildings. At the Uralmash market, we managed to get wonderful ambient recordings of the busy sight. At the end of our trip, we visited the old (and still active) cinema near the Uralmash metro station. It was great to be able to see the old projectors and record materials the cinema rooms. In the end we spent over an hour exploring the sounds of a large metal sheet we found…

Constructivist Architecture 
During our trip in Yekaterinburg, we also discovered a love for Constructivist architecture. These beautifully built and powerful buildings were dotted around everywhere in the city and attached my attention. The first time I become aware of constructivist architecture in Yekaterinburg, was when we visited Lenina 52, where an old hospital was situated. The hospital was now turned into an arts centre where Larisa and her husband Igor host installations by artists around the world. On the 5th of February we witnessed an installation by Amsterdam artist Andreas Kuhne, which was an interactive sound sculpture that used sounds from various constructivist buildings around the city. Larisa and Igor were so kind to invite us into their home and show us their apartment in the constructivist housing block next to the old hospital.  Their apartment was built without a kitchen, which is why they had to build it in the hallway of their small and wonderful home. Our constructivist architecture tour and tea were both excellent!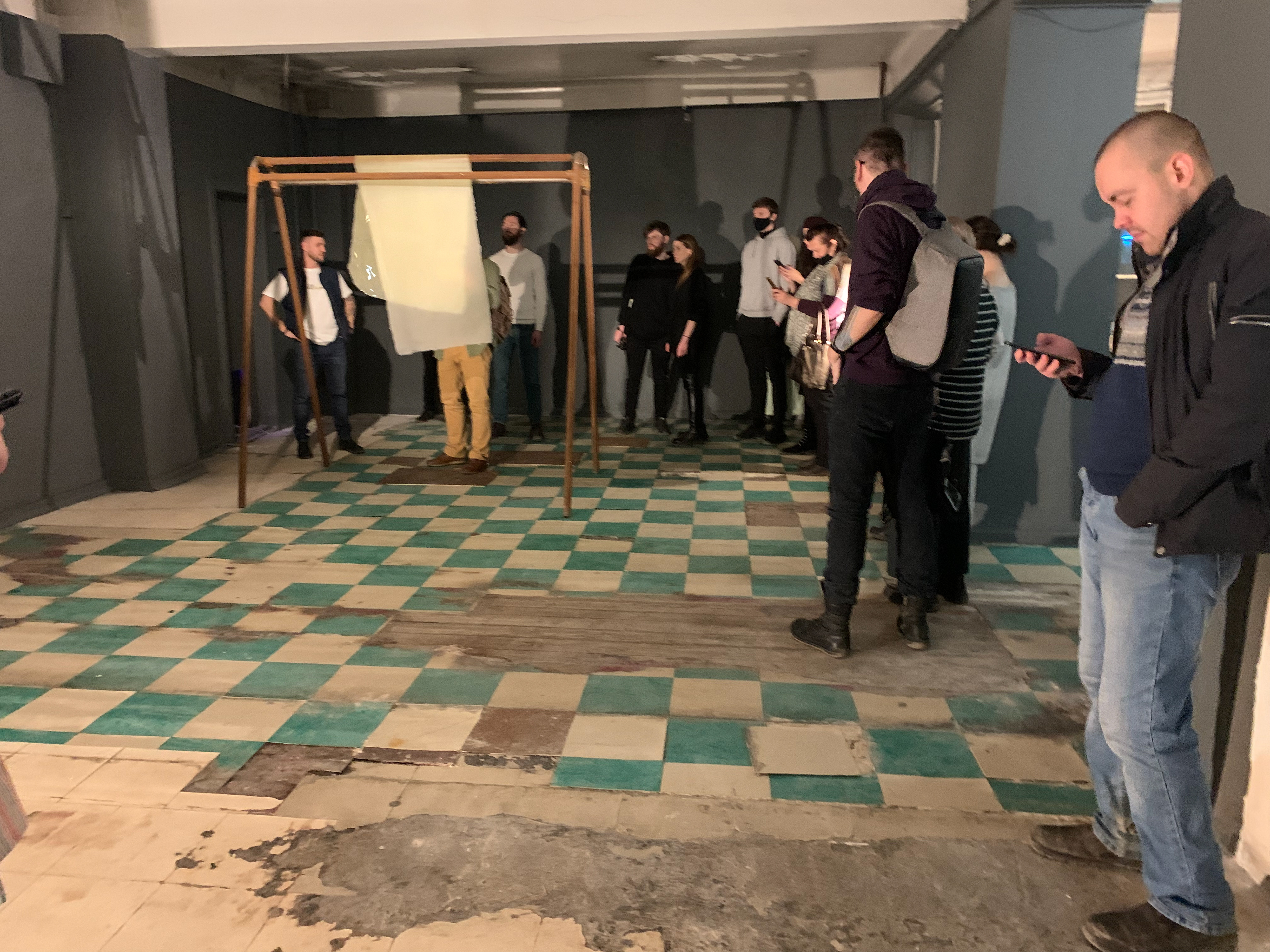 Audio Workshops 
The second half of my workshops relied on experimentation and listening. Although some participants have had some experience with live electronic improvisation, a lot of the participants come from a purely visual background. It was therefore interesting to see people experiment with Korg Volca synthesizers, play with MIDI sequencing and use
Ableton
for the first time. 
An interesting mix of classical musicians, rappers, animators and biology academics made for an interesting an unique sound performance.
Favourite quote from one of the participants: "I felt that it was getting too beautiful and I tried to destroy it"
After the workshop we sat together to discuss the final showcase on the 19th of February. We divided into groups and thought about what kind of sound and visuals each group might want to explore during their performance. The performance would feature home-made synths, field recordings taken during our field trip to
Uralmash
, hand drawn animations and many other interesting sounds and visuals! 
The Final Performance 
On the 19th of February 2022, I organised a performance evening with the NCCA in Yekaterinburg to help showcase the work the participants had put in over the past few weeks. Nearly everyone wanted to be involved: whether it was concerning sound, visuals or simply providing moral support. The space felt very special that evening, as it took place in the same room as
Raydale Dower's
installation was presented (opened on the 17th of February 2022).
"It's all too beautiful..."
is an installation that features three balloons floating in a space, which have little speakers attached to them. The speakers spell out "It's all too beautiful" at different times and pitches in morse code. I found the concept wonderful, as it turned a language that was mainly used in warfare and turned it into peaceful art for the people. This installation is now more relevant than ever. 
The balloons were still floating in the space during the performance evening and interacted with the projections. This immediately created a three dimensional space and gave room for the projections and sound to move beyond the front stage and created an immersive experience for performers and audience. 
 Many students used their new skills in Hydra to showcase visuals alongside their performance. Although some performers were already established musicians, many also took this chance to perform their music for the first time. All performances were truly unique in their own way: Konstantin Roslyakov created a piece inspired by a community garden in Perm that is threatened to be closed by the government. Konstantin therefore created ambient music inspired by the sounds of plants and birds, along with images of the city of Perm and microscopic images of plants, which look like Google images taken from the sky. This was the first time he performed music in his life and blew the audience away. 
Tyumen 
In our last days of Russia, we had the opportunity to travel to Tyumen with our friends Alisa and Oksana. There we were to give an artist talk and had the chance to play at a live jam at the cultural centre in the city. The cultural centre in Tyumen was newly built and had a large LED screen as a backdrop to the performance area. Using footage I had recorded on the car journey to Tyumen, I created live visuals to the jam. Using a soprano saxophone Oksana lent me, I was able to create ambient soundscapes using saxophone and voice, which interacted with the visuals. I had never worked with such a good quality screen before and was in awe at how bright and crisp the colours on the screen were. The person who organised the performance and artist talk was 
Evgeniy Pisarchenko
 (Anymodal). The day after the performance Evgeniy also showed us around Tyumen on a "Defender of the Fatherland Day". On this occasion, the people of Tyumen held a car race on the frozen river. I loved the sounds of the racing cars sliding on ice.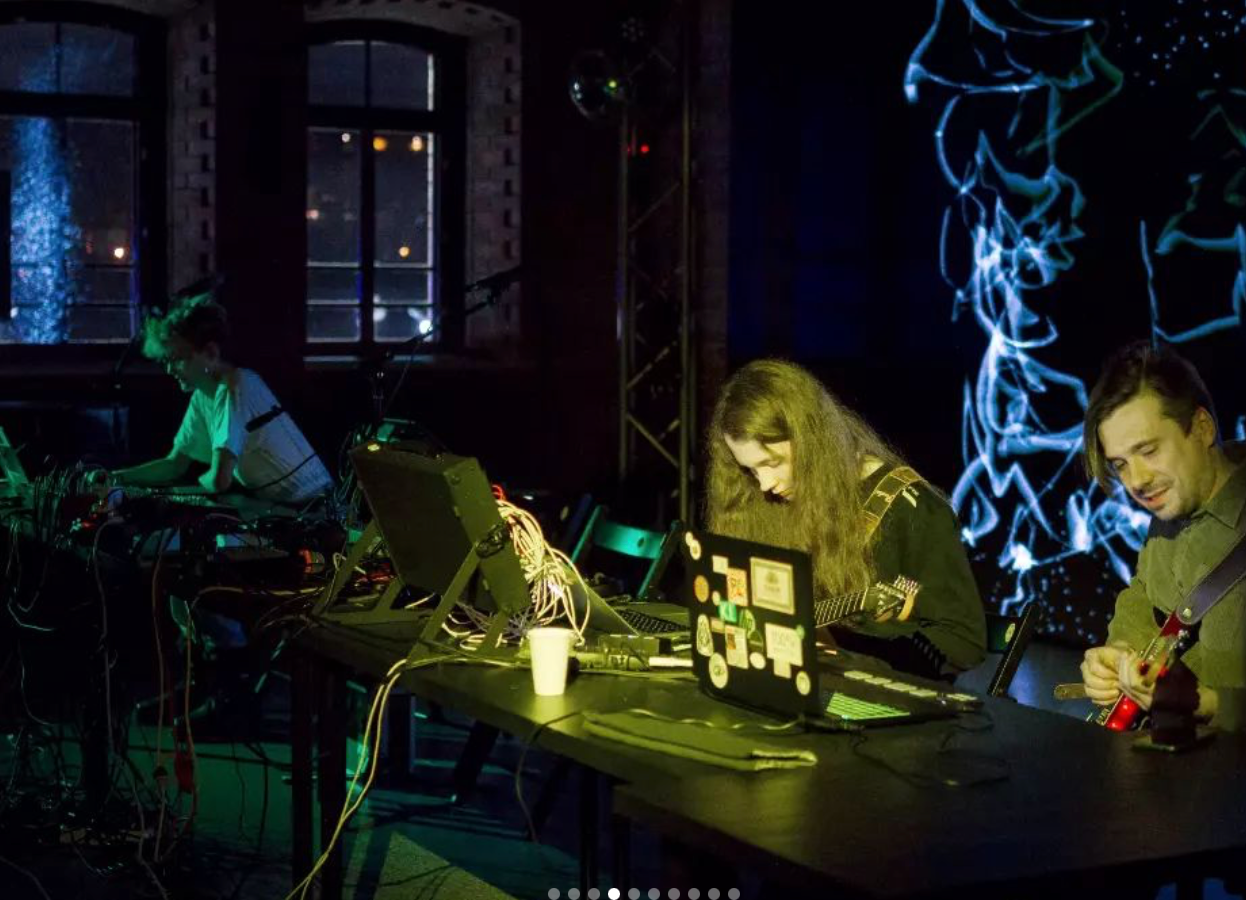 Saying goodbye... 
Being in Yekaterinburg has been a life changing experience for me. I made so many friends who I think of daily and who I would love to see again one day. During my time in Russia, I created a new ambient live performance, along with many new visuals and videos that I am eager to use in future work. Most importantly, I learned a lot from other artists there, especially animators and electronic musicians. For example, my good friend Nastia  
(Melixanim)
 interduced me to her world of animation and sketching, which inspired me to start working on my own sketch book and keeping a visual diary. 
Recommended Listenings from the Urals
Visual art by...
Fashion By...